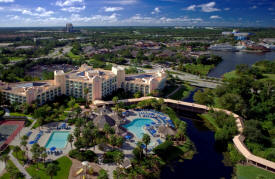 There are 1,014 guest rooms, which includes 117 suites that may especially appeal to families. Though this resort is not owned by Disney, it's right on Disney property and considered an official Disney hotel.  Situated on 27 acres, it's almost directly across the street from Downtown Disney, and the Disney bus transportation depot.
Address: 1900 Buena Vista Drive, Lake Buena Vista, Florida 32830-2206,  Direct: 407-827-2727 Reservations: 866-397-6516
We recently had the chance to stay there, and we were put on the 20th floor.  The view from our balcony of Downtown Disney was spectacular.  If you choose this resort, we feel it's worth the fee to enjoy this view!  Fresh from an extensive, $50 million renovation, the resort offers a new style through completely refurbished guestrooms, a redesigned lobby and new private event and dining venues.
Although it's a nice vacation resort for anyone, it's also a convention resort, which may make it a great alternative for adult travelers.  While there are certainly amenities for kids (see below), we noticed that there were far more adults visible during our stay than the family oriented crowds you'll see at the Disney resorts.  Adult travelers and families will both like the low stress atmosphere. Despite its central location and the fact that we were visiting during a peak crowd period, it never felt crowded as most of the Disney resorts tend to at this time of year.  It felt kind of like an oasis from the  crowds.
The main building is 27 stories high.  Inside the lobby we found it to be a calm and pleasant environment. There's music playing that we would consider relaxing, light jazz, contributing to the experience. The lobby also includes a new media lounge with three Apple Cyber Stations, two flat panel large-screen high-definition televisions and plenty of comfortable seating. We would describe the décor as upscale, modern and minimalist. Visually, the resort reflects simplicity and quality.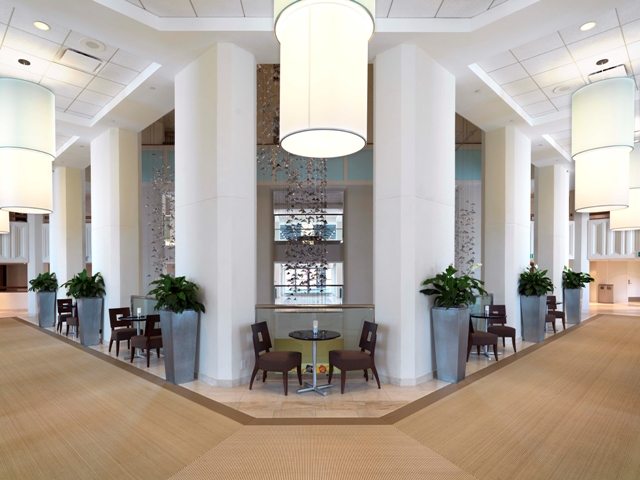 This resort is not run by Disney, but it's on Disney property and guests do have some of the same Disney perks.  This includes package delivery, access to preferred tee times at Disney golf courses, preferred dining reservations and seating at the Disney restaurants, and guaranteed admission to all Disney Parks even when the parks reach capacity if you use the resort bus. This is because their buses are still admitted even when the parks close because they've reached capacity.
Reservations and special room requests:  If you must request a handicapped or specially equipped room, they recommend that you inform the reservation agent of any special needs to ensure they have that room type available. They will guarantee a handicapped room. The other alternative is to call their Rooms Control Department after booking your reservation. You can reach them at (407) 827-2727 Ext 28285.
They do accept special requests such as no fragrances in the room prior to check-in.  The beds ordinarily have Pacific Coast Down pillows and a down duvet, but you can request that it be removed.  There are no special devices available here such as room air purifiers.  If you need any special devices, you'll need to make arrangements with an outside company.
You can request a non-smoking room.  Unfortunately there are some guests who smoke despite the fact that they're in a non-smoking room.  We were told that the hotel policy is to send someone up to inform the guest that smoking is not permitted. Call the front desk if you find that someone is smoking in a non-smoking room.  Keep in mind that guests will sometimes smoke on the balcony even in the non smoking rooms. If your balcony door is open it could travel in.
Check-in:  Check-in is 4 PM, and check out is 11 am. Late check-out is possible but varies based on occupancy. You will leave your luggage with a bell person who will approach your car as you arrive.  Once you enter the resort, you can proceed to the front desk.  Our check-in was super fast and easy. It was so seamless that there's nothing else to mention!
Once you're in your room, call the Bell Service number on the phone and they'll deliver your luggage to your room.  For check-out, just call the bell services and they'll come up and get your luggage. They were there within a couple minutes after we called, despite the fact that we were there during a Disney peak crowd period. Luggage storage is available as an alternate if late check-out is not available.  They will store your computer and other valuables in a safe that you will have the key to, and they'll put your luggage in a locked, air conditioned room.
Wheelchairs: Wheelchairs may be available at the bell station for short term use only, as a means of transporting a guest to their room.  They don't provide for long term or overnight wheelchair needs, but they'll store a wheelchair that an outside company leaves for you.  If you've rented from an outside company, just request your wheelchair from the bell person when you arrive at the resort.
Service: We found throughout our stay that the staff was friendly and that all of our special requests were met.  They actually called after each request we made to determine if everything was followed up on to our satisfaction.  The valet and bell staff were particularly helpful on several occasions.
Rooms:  We had seen photos on the web, but we felt they didn't do the room justice. Our room was very pleasant, very clean and it had an upscale feel to it.  The combination of the modern design, colors and furnishings seemed very comfortable to us.  The furnishings have rich, dark finishes the rooms have a color palette of sky blue, light taupe and beige.  For some reason that we could not put our finger on, we felt more at home and comfortable in this room than we have in many other hotels we've visited.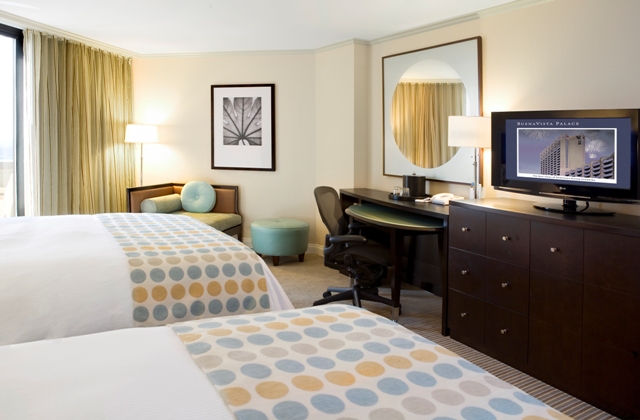 Newly redesigned standard rooms include: Sealy® pillow-top bedding with luxury linens; LG 32" LCD flat-panel HD televisions; wired and wireless Wayport Internet access for a fee; Herman Miller© ergonomic chairs; new carpet, wall coverings and case goods; enlarged closets; spa-quality robes; in-room coffee service and digital climate control. Remodeled baths feature back-lit mirrors; additional lighting; designer bath products and frameless glass showers.
To give you an idea of the size of some of the rooms, approximate sizes in square feet are as follows:
Standard rooms  – 350
Island Suites        – 425
Premium Suites  – 600
They have either a king or two queen beds.  There are a variety of suite styles that offer an extra bedroom, pull-out couch, microwave, wet bar and other amenities.  Most of the king rooms include a single fold-out sofa bed.
In addition to the other furnishings, there is a movable table that's perfect for use with a computer. The Herman Miller Ergonomic desk chair desk chair was seriously comfortable. Sarah ordinarily has a tough time with back pain using most desk chairs, and she found this very comfortable. The in-room safe is large enough to fit a laptop computer as well as other items.
There was no electrical outlet by the beds.  Those with an electrical device such as a C-PAP will want to bring an extension cord.  There was an outlet that was located in a practical position for recharging an ECV.  Every room has a small refrigerator included at no extra charge.  There's a coffee set-up that is located in a convenient spot that will make it practical to use.
The bathroom had one vanity and sink, and a separate bathroom/shower room.  Upon our request they supplied a soap that was absolutely fragrance free, which is quite unusual. The shampoo, conditioner and body lotion did have fragrance.  The bath linen is 100% ring-spun cotton.  There were bathrobes for each of us.
The small balcony had two comfortable outdoor padded chairs.  It was a pleasure to hang out and enjoy the spectacular view of Downtown Disney. Another possible view is that of Epcot.  Those who face this way may be able to see the nightly Illuminations! fireworks display.  For those who are dealing with a fear of heights, you'll want to request a lower level.
Tip: We were told that any floor over 7 or 8 is far enough removed so that you won't be bothered by noise from the pool area.  Those on lower floors facing the pool may find it noisy at times. On the 20th floor there was no outside noise when the sliding glass door was closed. When it was opened we could hear the hum of traffic, but there was not much people noise other than someone talking on a cell phone on their balcony.
As in most hotels, we found that we could hear other guests leaving their rooms in the morning beginning around 7 am.  However our room was completely quiet in the evenings and through each night.
The beds include Sealy Pillow-top bedding and were quite comfortable.  They were approximately 2 feet off the ground.  There's a ceiling fan in the room that you can control. There is no night light so bring one if you need to have some light at night.
Tip: The air conditioning vent blows on you when you're in bed.  Some will find that refreshing. For those who have discomfort with the sensation of air blowing on you, it may help to choose a room with two queen beds and to sleep in the farthest position away from the air vent.
We had requested that no scented products be used in our room.  We did not detect any perfume smells or chemical odors.  The resort does use air fresheners throughout.  We often noticed what seemed like a vanilla fragrance in the lobby and lower level.
All rooms are accessible to wheelchairs and ECVs, but there are specially designed rooms for those who need them.  We were in a standard room but there was adequate of room to drive an ECV in. There is an electrical outlet appropriate for recharging your chair.  It would be challenging to navigate in a non-handicapped room if you had to stay in your chair.
Fully accessible rooms are normally approximately 350 square feet, and they're designed to allow you to move about in your chair.   Some rooms include roll in showers, other have shower and toilet grab bars, shower seats, electronic door openers, lowered sinks and a/c controls.  Some rooms have lower fan and lighting controls, as well as access for a wheel chair to fit under the vanity area.  There are fire alarm, telephone and door bell alert strobes available as well as TDD devices.
We found that the door to our guestroom was moderately light and did require some strength to open.  Sarah was able to ride in and out with her scooter while holding the door open on her own, but it was somewhat challenging.
Dining:  There are three main dining locations and one quick food option.  We would describe them as upscale. They are as follows (Please see our website for menus and photos):
Outback Restaurant: This is not the same as the Outback Steakhouse chain. This is an Australian-inspired steakhouse with a multi-level waterfall and open-hearth grill. You'll find steaks and fresh seafood. It's open for dinner only, and reservations are suggested.
We found it to be an elegant and atmospheric restaurant.  In fact it was so attractive we changed our plans to try it. The food was above average in quality, and you'll find the prices are on the very high end.  Food is served a la cart, which adds up if you wish to order veggies and other side dishes.
It's quite dark inside, and the seats are padded with backs. Wheelchairs must take an elevator to the lower level. The hallway leading to the restaurant is made to look like a cave. Those with claustrophobia might find it challenging, but it's a brief walk and you can see the exit. The scooter was a fairly tight fit. Please check our website for a menu sample at www.Diz-Abled.com.
Watercress Café: Home of the resort's Sunday Disney Character Breakfast, this casual bistro offers breakfast buffets ($20 for adults every day but Sunday) and light fare for both breakfast and lunch. Please check our website for a menu sample at www.Diz-Abled.com.
Watercress Pastry Shop & Mini Mart: You'll find this in front of the Watercress Café. They serve fresh-baked pastries, ice cream, Starbucks® coffees, pre-made sandwiches and salads to-go. In addition you can order "fast food" made in the Watercress Café kitchen. You order your meal at the store register and it's brought to you from the nearby restaurant.  It's served in a plastic container. There are tables in an adjoining room where you can eat. You'll find condiments, plastic utensils and tables that overlook the water. Guests can also use the microwave in that area.  A breakfast of two eggs, toast and potatoes currently cost $8.  Coffee is additional at $3.20 for a small, which is not refillable. You serve yourself the coffee. There are also some baked goods available.
Castaway Grill & Shipwreck Bar: Serves tropical drinks, hamburgers, hot sandwiches and salads poolside. Lunch and dinner is served here.
Kook Sports Bar: A new sports-themed restaurant/bar serving dinner against a backdrop of 40 flat-screen televisions.  The televisions are very impressive and sports fans will enjoy the set-up.
The resort offers room service, and they leave a menu on your bed each night so that you can order for the next day. For other breakfast options you can walk over to Downtown Disney and try McDonalds or the Earl of Sandwich. Of course there are many restaurants serving lunch and dinner there as well.
During the evening, the lounge which is in the main lobby has a happy hour. They serve a delicious non-alcoholic drink along with hors d'oeuvres. This is available to all guests at no charge.  Snacks can be ordered here also.
Here's the policy of the resort concerning special dietary needs for their restaurants and room service:  Our Food & Beverage team is happy to make arrangements with guests in advance.  If not requested in advance, we will do our best to accommodate any special needs/requests.  You can call the food and beverage department directly at 407-827-3427.
Parking:  There is a parking fee for valet-parking or you can self-park at no charge. Disabled guests are offered valet parking at no charge, but you must have valid state issued proof. We self-parked and we did find that the disabled parking spaces were quite a hike to the main lobby and elevators to the rooms.  It was necessary for me to drop Sarah off at the front entrance, where she would sit and wait for me to return.  She was not able to safely ride to the lobby on her scooter. This was because of the parking lot and road design as well as the fact that there was no sidewalk from the handicapped parking area to the entrance. Also, although you can enter the convention center from the handicapped parking area, there was no elevator visible. It appeared that you must be able to ride an escalator to enter through this area. If you are driving and can not be dropped off at the entrance, we recommend that you use valet parking.
Transportation: The resort offers buses to all the Disney parks, including the two water parks.  They run to the four main parks approximately every 30 minutes and a twice daily pick-up and return for the water parks. The resort shuttle buses should have a hydraulic lift and room for one non-folding wheelchair or ECV.
When walking to Downtown Disney, there is a covered walkway and bridge that leads you to the sidewalk across the street from the Downtown Disney Marketplace side. The walkway is smooth concrete until you get to the bridge.  The bridge is made of wood slats that are bumpy for a wheelchair or ECV.
The location that the path leads to is directly across from the Disney Marketplace transportation bus depot.  Those in ECVs should be cautious about crossing the street where the walkway lets you out. We find it to be an unsafe crossing point for a number of reasons.  To get to a safe crossing point, walk as if you were heading towards Disney's West Side. The next corner you come to has a crossing light.
Entertainment: There are a number of options at this resort.
The Spa: The 10,000 square foot full-service spa is tastefully decorated.  It's on the smaller side compared to some other spas we've visited, however it's particularly well appointed. Services include facials, massages, body wraps, hair and nail treatments and make-up application for women.
The men and women's areas each have a sauna, small lap pool and hot tub. The lap pool depth is 3 feet 10 inches to 4 feet four inches. You also have access to the fitness center which is open from 5 am to 10 pm.  For those with back issues they do have a recumbent bike.
The resort representative told us that their therapists usually have three to five or more years of experience.  Sarah experienced a hot stone massage. Her therapist had over 15 years of experience with physical therapy in addition to her massage training.  Sarah felt the experience was "like a little piece of heaven." She also found the staff to be attentive, pleasant and eager to please. This can be a great way to get some pain relief or to just relax!
You can order wine while you're receiving services.  They don't serve wine to those receiving a massage; this is because massage can cause detoxification, so wine will put extra stress on the liver. During your visit, you can partake of fruits and nuts, teas, water and other snacks that may vary.  You can order a meal through the hotel room service. They do have a healthy menu for the spa, but you can also order from the regular menu which includes burgers and fries! There's a beautiful court that you can eat in which has a tiled fountain in the middle.
If you have allergies to fragrances, let them know at the time of your reservation.  They do have some fragrance-free massage oil. The spa itself has a very mild fragrant smell.  At the time of her visit it was so mild that Sarah didn't notice it for some time, but because we check for it specifically for our readers, she discerned that it was there. They provide a locker, slippers and robes. Although they supply soaps, shampoo and lotions for guests, they do not have any that are fragrance-free.
The showers are made to become steam rooms. There is a handicapped shower which is a roll-in shower with grab bars and seats. Most everything should be accessible.
Though the nail area doesn't advertise acrylic nail service, they will do this upon request.  If you're sensitive to the smell, you can request to be placed in a separate room.
Friday's and Saturdays are the spa's busiest days. They tend to get a lot of wedding parties that they do hair, nails and makeup for.  During the week the spa tends to be most quiet, although that can change.
Swimming Pools: There are three pools separated in the same general areas as the bar and a pool side restaurant.  The main pool depth is 3 feet 6 inches to 6 feet 6 inches. The other two pools are children's pools. The first is 3 feet deep and the other smaller pool is 1 ½ feet deep. According to the resort, they are heated to approximately 82-84 degrees.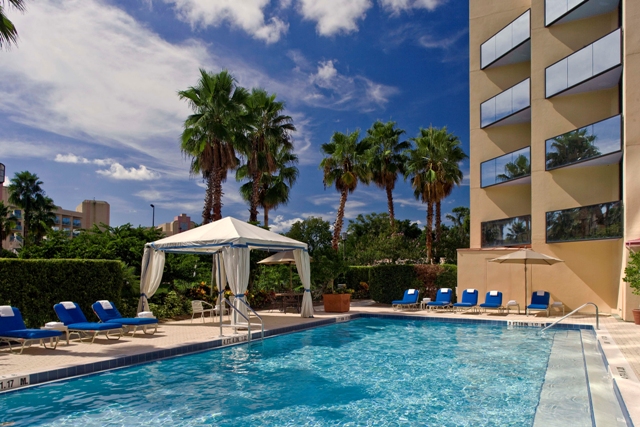 There is a small lake surrounding part of the area. The main pool has one section which is covered by an overhang between the bar and restaurant, providing shade. The hot tub is in the covered area also. There's also a waterfall that spills from the roof of the building into the water.  The main pool is themed with Florida landscaping and island music.  Although the pool area is accessible, there are no special features to assist with entry for those with mobility issues.
Although the pool area has a very casual feel to it, some of the amenities and services offered at the pool are decidedly upscale.  For example, guests have access to a pool concierge with complimentary magazines, books, fruit and towels.  Sun bathers are offered cool, wet towels, compact disc players, headphones, music selections, water spritzes and small samples of a fruit drink.
There are several umbrellas offering shade, and there's a covered area with some tables under it.  If you need shade there's plenty of room to drag a lounge chair under it. The lounge chairs have comfortable padding.
There are restrooms in the area. It would be tough to get a wheelchair in the main restrooms but there's a companion and wheelchair accessible bathroom also.
Although we were visiting at a peak crowd time for Disney, the pool area never felt crowded as it might in most Disney resorts.
Other: There is a lighted tennis court, basketball court and sand volleyball court. Guests have access to five Disney championship golf courses with preferred tee time privileges. There is a small game room which is accessible; however a couple of the games may not be reached in a wheelchair.
Babysitting services are available at the resort.  Call guest services at 407-827-3225.
Elevators: The elevators are enclosed with no view outside. For those with visual impairments, the elevator actually announces the floor it's arriving to, and whether it's going up or down.
Pest Management: Of course, pests are a fact of life in Florida, and the Buena Vista Palace has a program for keeping the resort free of this problem.  Keep in mind that you can request that they don't spray your room within 48 hours prior to your stay, or during your stay.
They contract with an outside vendor to take care of pest control.  They do say that all of their room treatments are safe for immediate occupancy. The rooms are sprayed once per quarter or as needed.
Other General Services & Amenities that we haven't mentioned:
Automated Teller (ATM)
Car Rental
Concierge Desk
Cyber Café
Disney Store
Gift Shop
Laundry & Dry-Cleaning Service
Lounge
Mini-Market
Multi-Lingual Staff
Sports Bar
Babysitting Services
Cribs
High Chairs
Playground
Pet Services & Amenities
Service Pets Allowed Only
Do you have more tips or thoughts on this topic?
Please feel free to post them in a comment below. We'd love your input.
Join our facebook group!!!!
Ask any questions, share your knowledge and just enjoy getting to know other Disney fanatics in our facebook group called Walt Disney World Made Easy for Everyone.
Also join me on Pinterest here.
GET UPDATES, NEWS & TIPS (IT'S FREE!!!)
Sign up below to stay updated on the newest information, tips and tricks to help you plan your perfect Disney World trip!
Some photos belong to the Buena Vista Palace and are used with their permission.