Introduction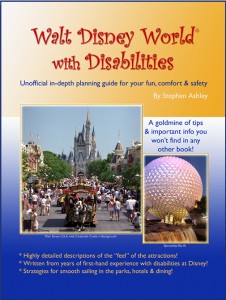 Walt Disney World Overview.
Transportation
Monorail
Buses
Boats
Crowd Size
Wheelchairs & ECVs
Should I rent a wheelchair rather than walk the park?
Wheelchair Facts & More Tips
Problems with your chair
Park hopping with a Disney rental
Help in and out of wheelchairs
Leaving your chair
Non-Disney Wheelchair Rental Companies
Wheelchair accessible vans
Oxygen Use
Disney Dining
Full-service & made-to-order restaurants
Advance Reservations
Fast-food & over-the-counter restaurants
Wheelchairs in the restaurants
Resort food courts
Snacking
Allergies & special diets
Restaurant menus & reviews
In-room Refrigerators
Smoking Laws
Allergies & Chemical Sensitivities at Disney
Plants
Special room requests
Pesticides
Bees & bugs
Perfumes
Dining
Service Animals
Medication
Florida Weather
Local Hospitals
Dialysis
The Parks
Extra Magic Hours
Park Ticket Strategies
Theme Park Parking
Handicapped parking
Entering the Park
Getting & Using a Wheelchair
Rides & attractions with wheelchairs
Wheelchair Etiquette
Lockers
Guide Map and Time Guide
Guest Services – Guest Relations Area
Guest Assistance Cards (GAC)
Rides & Attractions With Disabilities
How do I know what attractions to avoid and what to try?
Queues & Entrances
FASTPASS
"Switching Off" on Rides
Boarding Rides & Help from Cast Members
How Many People Can Accompany Wheelchair or GAC Users?
Special Devices & Assists
Hearing Impairments
Sign language
Noise sensitivity
Visual Impairments
Attraction Length of Time
Single Rider Queues
Ride Failure Issues
Dealing With Fears
Fear with attractions
Other fears
Dealing With Fatigue
Resting in your resort room
Resting in the parks
ECVs & fatigue
Crowd & weather strategies
Other strategies
Overstimulation Issues
Diabetics
Restroom Issues
Epilepsy
VIP Tours
First Aid Stations
How Long Will I Spend in Each Park?
Communication with Your Party in the Parks
Warnings for Attractions
More Allergy Issues in Disney Parks
Parades
Tours
Disney's Hollywood Studios – Formerly MGM Studios
Park Facts for Disability Issues
Wheelchair Attraction Information
Wheelchair Rental Locations
Wheelchair Service Locations
Companion Restrooms
Attractions With FASTPASS
Service Animal Rest Stops
Braille Map
Manipulatives for Visually Impaired Guests
Disney's Hollywood Studios Attractions
Thrill Rides
Live Entertainment
Other Attractions
Disney's Hollywood Studios Dining
Better Quality Dining
Quick Service Restaurants
Animal Kingdom
Park Facts for Disability Issues
Wheelchair Attraction Information
Wheelchair Rental Locations
Wheelchair Service Locations
Companion Restrooms
Attractions With FASTPASS
Service Animal Rest Stops
Braille Map
Manipulatives for Visually Impaired Guests
Animal Kingdom Attractions
Animal Experiences
Thrill Rides
Other Attractions
Live Entertainment
Animal Kingdom Dining
Better Quality Dining
Quick Service Restaurants
EPCOT
Park Facts for Disability Issues
Wheelchair Attraction Information
Wheelchair Rental Locations
Wheelchair Service Locations
Companion Restrooms
Attractions With FASTPASS
Service Animal Rest Stops
Braille Map
Future World
Mission: SPACE
Test Track
Spaceship Earth
Ellen's Energy Adventure
The Seas With Nemo & Friends Pavilion
Imagination! Pavilion
The Land Pavilion
Innoventions
World Showcase
Canada Pavilion
China Pavilion
France Pavilion
Germany Pavilion
Italy Pavilion
Japan Pavilion
Mexico Pavilion
Morocco Pavilion
Norway Pavilion
U.S.A. Pavilion
United Kingdom Pavilion
IllumiNations
Magic Kingdom
Park Facts for Disability Issues
Wheelchair Attraction Information
Wheelchair Rental Locations
Wheelchair Service Locations
Companion Restrooms
Attractions With FASTPASS
Service Animal Rest Stops
Braille Map
Magic Kingdom Attractions
Main Street, U.S.A Attractions
Tomorrowland Attractions
Mickey's Toontown Fair
Fantasyland Attractions
Liberty Square Attractions
Frontierland Attractions
Adventureland Attractions
Magic Kingdom Dining
Full-service Restaurants
Counter Service Restaurants
Disney World Resort Tips
Hotel choices
Value resorts
Moderate resorts
Deluxe resorts
Other hotels Rooms for Guests with Disabilities
Special Room Requests
Requesting Special Room Locations
Pool Planning
Late Check-out
Canceling Your Room
Package Delivery
Allergies & Chemical Sensitivities
Pesticides
Non-smoking rooms
Service Animals
Resort Perk – Extra Magic Hours
Valet Parking
Resort Dining
Gift Shops
What Else to Bring
Resort Rehabilitation
Wheelchair Tip
Helpful Websites
Phone Number References
Contact Us