In this article we'll cover:
The benefits of renting with a non-Disney outside company.
The companies you can rent from.
Tips for choosing the right type of ECV for you.
Option: Portable scooters that can be taken apart.
Attendant Control Electric Wheelchairs
Should I rent an ECV or wheelchair from Disney or from an outside company?
For some people it's a better idea to rent from an outside company. There are a number of reasons for this:
⇒ $$$ – For ECVs, most outside companies tend to charge significantly less than Disney.
⇒ It's a sure thing! Disney does not allow guests to reserve ECVs and wheelchairs in advance, and they sometimes run out of them. When you rent from an outside company you'll have peace of mind knowing that you'll definitely have your wheelchair/ECV.
⇒ You can take them anywhere. When you rent from an outside company you'll have 24 hour use of it anywhere. This means that you'll not only have it in the theme parks, but you'll have it everywhere else such as in your resort (most of them are large and sprawling), at any of the other entertainment areas such as Disney Springs or the Boardwalk, and for getting to and from Disney transportation where there are often lines and waits.
When renting from Disney, you only have use of the wheelchair or ECV where you rented it, on that day. The one exception is when you're park hopping (visiting more than one of the 4 main parks in the same day), but it's not a guarantee that you'll get a replacement ECV or wheelchair when you hop to a new park because Disney can run out.
⇒ If you rent from an outside company you may have options with the type of chair you get. For example, if you plan to have your own car and want to be able to transport an ECV yourself, a smaller, more portable scooter such as the Pride Mobility Go Go Elite Traveler may be right for you. They can be disassembled fairly easily and put in the car, with the heaviest piece weighing around 35 pounds. See below for more info.
⇒ Non-Disney scooters can usually go faster than the Disney scooters, depending on the company. Disney's scooters are set to have a very slow maximum speed. We hear a lot of frustration expressed about this.
How do I pick a non-Disney Wheelchair Rental Company?
There are many choices within the Orlando area. Some of these companies are full-service medical supply providers and can rent wheelchairs, ECVs and other medical equipment. All of these companies below will deliver the wheelchair or ECV to your Disney area hotel (there may be some exceptions, so verify this with your wheelchair company), and they'll pick it up when you're done.
Who is best? When we researched this question, we saw consistently great reviews of Buena Vista Rentals. For this reason, we reached out to them as our first choice for sponsor, and they came on board. Now our readers can get free stuff with their rentals! See below.
Here's what you need to know about Buena Vista Rentals:
After doing a LOT of research, our first choice pick for sponsor was Buena Vista Scooter rentals, and they chose us back. We'll start with them, along with a brief explanation of why they were our first choice.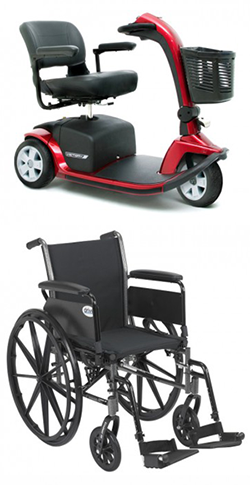 Phone – (407) 938-0349    (mention "DIZABLED" offer)
Toll Free (866) 484-4797  (mention "DIZABLED" offer)
We recommend Buena Vista Rentals. We invited them to sponsor us. Here's why: 
FREE DELIVERY to resorts and hotels.
Newest equipment.
Clean equipment and well maintained.
Great reputation and customer reviews.
Quick service, even in the parks.
Great selection of wheelchairs/scooters and accessories.
Convenience. They'll pick up and drop off at your Disney resorts without you being there.
More options such as a case of water or Gatorade with your delivery.
Reliable! They've been in business over 23 years.
Buena Vista Rentals offer scooters, wheelchairs, and scooter accessories like a sun shade, basket or cup holder. They have a convenient rental location on Disney property at the front of the BoardWalk Inn, and they also have other locations around Orlando. We love that you can also order a case of drinking water or Gatorade which will be delivered with your scooter.
Buena Vista Scooter also rents out oxygen tanks, strollers and bicycles.
They'll service your own personal scooter if it needs repairs. They can come to most Orlando locations, and they can rent you a replacement scooter while yours is being repaired. There's a $50 service charge, plus parts and labor on all repairs. Additional fees may apply for them to come to you, depending on our location.
Buena Vista Rentals vs. Scooterbug – Buena Vista Wins!
Something else to know is that Disney recently changed its policy. Now Scooterbug is the only company allowed to pick up and drop off their scooters without meeting the guest. With all other companies, you'll meet them at your resort to pick up and drop off your scooter or wheelchair. Regardless, we still feel most comfortable recommending Buena Vista Rentals for two main reasons.
Scooterbug scooters are all set to drive very, very slowly. Buena Vista scooters are not limited the same way. Scooterbug is required to match the ultra slow settings on the Disney scooters. We see a lot of complaints on this, with a great deal of frustration and disappointment expressed.
Buena Vista gets consistently great reviews, but not so with Scooterbug. We've seen a lot of mixed feedback on Scooterbug's reliability, service and equipment, while for Buena Vista we see consistently great feedback. For example, we've seen accounts of Scooterbug scooters not being delivered on time, even arriving the next day.
Other companies that offer scooters and wheelchairs include:
Tips for Choosing the right ECV from an outside non-Disney company
Smaller ECVs tend to have a better turn radius, which means they can take tight corners and sharp turns with more ease than larger ECVs.
Three wheel ECVs tend to have a better turn radius than four wheel ECVs.
The downside to a smaller ECV is that they tend to be less stable and can be more prone to tipping over. They also tend to be less comfortable, and with smaller batteries they run out of power sooner than the larger ECVs. However with our three wheel Pride Mobility go-go that we own, we've never run out of juice at Disney World, even after a full day in the parks.
Larger scooters tend to have greater stability and a smoother ride.
Most ECV seats have a vinyl covering including Disney's, but some of the non-Disney companies have fabric-covered scooters. Some people feel more comfortable with fabric, as they're softer and feel more "cushiony" on the seat and back. The downside is that if it rains, the fabric can get soaked.
With any rental company, ask for the newest scooter available. We've found that older scooters tend to have more problems and are less comfortable. The cushioning on a newer chair is usually not as worn out, so it tends to be more comfortable. The newer chairs can also have features that make the chairs easier to adjust and use.
PORTABLE SCOOTERS

–

For those using non-accessible transportation (or their own cars, or rental cars).
If you're renting a scooter and staying off site in a non-Disney hotel, or if you plan to ride your own car or a rental car, you'll need to plan for transportation to and from Disney with your scooter. If your hotel provides an accessible bus to your resort, then you'll be okay. Otherwise, I'd find a rental place that can give you a portable scooter, such as the Pride Mobility Go Go scooter. Those are lighter than other scooters and can be taken apart. But that's only if someone in your party can pick up a lot of weight. They run about 35-45 pounds for the heaviest piece. If you're unable to do any of this, I'd stick with renting from Disney, inside the parks. These portable scooters should fit in the trunks of midsize to large size cars, and SUV's.
Of course, wheelchairs are much easier to put in a car, however they'll require someone to push them. This can be very strenuous, so if it's possible for you to get a scooter, we recommend that.
Another option is to rent an accessible van that's equipped to transport a wheelchair or ECV. We'll be adding more about that later.
Attendant Control Electric Wheelchairs at Disney World
You may want to consider using an attendant controlled electric wheelchair if:
No one in your party is able to (or wants to) push a wheelchair all day.
The person needing a mobility device is under 18 years of age.
The person needing a mobility device is  unable to drive a scooter safely due to health issues.
One business that rents these attendant controlled electric wheelchairs is Yellow Scooters. Their chairs have a 350 pound weight capacity, and is controlled by a joystick located at the rear of the chair. The chair can also be converted to a manual wheelchair that you can push. According to Yellow Scooters it's approved for Disney transportation and park use. Please verify this yourself.
Yellow Scooter suggests that only those who are competent and experienced with this type of chair rent these. While we haven't tried this ourselves, the fact that Yellow is saying that on their site gives us pause. It may take some time and effort to become good at navigating these chairs, and Disney can be a challenging place to learn. We'll be getting some feedback on this in the near future and we'll report back.
Do you have more tips or thoughts on this topic? Did you have a good or bad experience with a non-Disney wheelchair or ECV vendor?
Please feel free to post in a comment below. We'd love your input.
Join our facebook group!!!!
Ask any questions, share your knowledge and just enjoy getting to know other Disney fanatics in our facebook group called Walt Disney World Made Easy for Everyone.
Also join me on Pinterest here.
GET UPDATES, NEWS & TIPS (IT'S FREE!!!)
Sign up below to stay updated on the newest information, tips and tricks to help you plan your perfect Disney World trip!