Should you schedule your Disney World Trip for October?
First check out the calendar below to see what crowds and weather might be like in October. Then see our recommendations below.
Please read this first: Remember that our crowd projections charts are "guesstimates". Many times in the past I consulted other well-known crowd projection charts, and would get to the parks only to find that reality was completely different from the estimates. Regardless, the general trends I saw on the charts effectively helped me choose the best travel dates for me. So please refer to our estimates only as a general planning guide. Know that accuracy is not a guarantee here or on any crowd projection calendar you'll see, and everything below is subject to change.
Click on the calendar to enlarge it: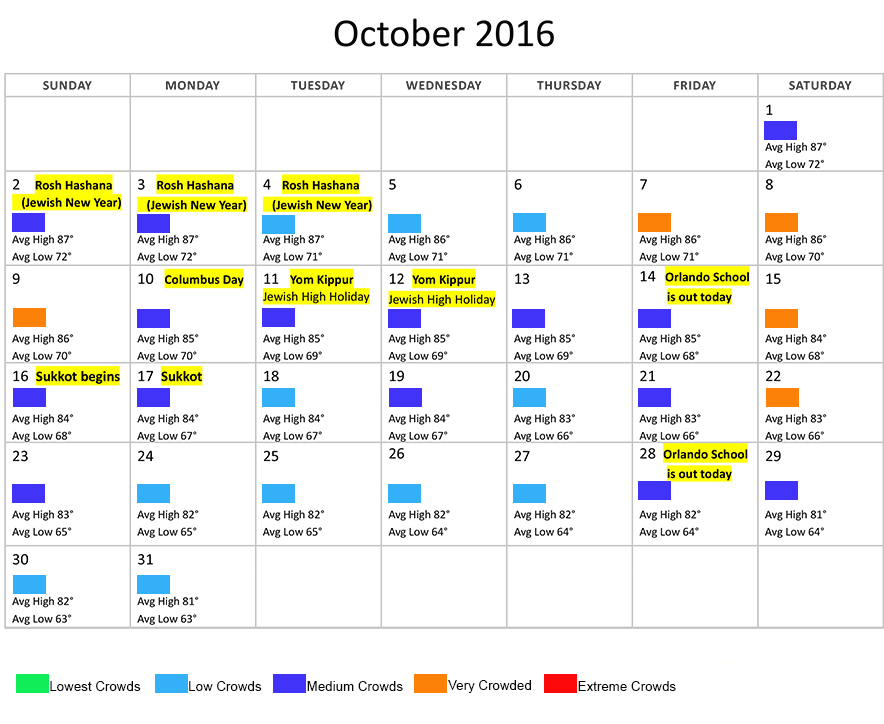 Weather Details for October at Disney World:
Average Rainfall for October: 3.3 inches with daily thunder storms.
Average high temperature is 85. Average low is 66.
October is within Hurricane Season.
Special Events and Holidays during the month of October at Disney World:
Magic Kingdom's Not So Scary Halloween Party is held intermittently during October.
Epcot's Food & Wine Festival runs thru November 14th. Locals come to Epcot for the Festival, especially on weekends. This increases crowds, especially on Friday nights, Saturdays and Sundays.
Columbus Day is on the 10th of the month, which can increase crowds.
The Jewish holidays of Rosh Hashana, Yom Kippur and Sukkot fall in October. Some schools in the USA have vacation days, especially during Rosh Hashana and Yom Kippur. This can increase crowds.
There are a couple of vacation days this month for the Orlando schools (on the 14th and 28th). Plenty of locals will head to Disney.
October is one of our preferred months to visit Disney World, especially towards the end of the month. Here's why:  
Weather-wise, it's relatively dry, and temperatures tend to be comfortable. The days tend to be comfortable for walking the parks, and it's also still consistently warm enough to swim in the resort pools and water parks. The evenings tend to be pleasant and mild. There tends to be significantly less rain than in the summer months. October weather can be ideal (except for possible hurricanes – see below).
Hurricane Season starts in June, and October is still part of hurricane season. Historically October is not as active as August and September, but hurricanes can hit in October. See the Weather at Disney World & Picking Travel Dates page for more details.
Overall October has tended to be a low to moderate crowd period, making it a good time to visit. This is especially true in the last week of the month. During lower crowd periods, the waits for rides tend to be shorter. The walkways in the parks tend to be less crowded. Lines for quick service food tend to be shorter. You might spend a lot less time waiting in lines during October compared to the summer months or other high crowd times. Many people find the lower crowd periods to be a lot more fun and a lot less stressful.
Some costs may be lower because of the lighter crowds. Ticket and resort pricing tends to be lower during these reduced crowd periods. You can check out the changes in resort prices here on mousesavers.com.
Health considerations when visiting Disney World in October:
Though Disney can still be quite warm in October, the temperatures tend to be far more comfortable than in the summer months. The days are warm enough to wear shorts comfortably, and the evenings tend to be mild. Since it there's only 3.3 inches of rain on average during October, the air tends to be much more dry than in the summer months. For many people this makes the heat much more tolerable. If you have issues with heat and humidity, October may be good for you, and the latter part of the month may be best bet.
Since mold grows in moisture, those who have mold sensitivity may do well visiting in October. However if you're extremely sensitive to mold, you may wish to choose a month with lowest rain averages like November, December, January, and February.
If you're riding a mobility scooter or wheelchair, consider that it can be more difficult in the rain. Since October has only 3.3 inches of rain historically, this might be a good month for you (though there's no guarantee of dry weather).
Recommended websites and references:
touringplans.com – detailed day by day crowd calendars (paid service) with various park touring plans.
easywdw.com – Free detailed crowd calendars with best and worst parks each day, and other details and recommendations.
wdwprepschool.com – Excellent planning site with some great information.
www.disneyworld.com – Disney's official website.
Mousesavers.com – Great information on how to save money at Disney World, including resort pricing calendars.
www.accuweather.com – Weather averages for each month and each day of the month.
Weather.com – Good site for weather averages and you can get a 10 day projected forecast.
Do you have more tips or thoughts on this topic?
Please feel free to post them in a comment below. We'd love your input.
Join our facebook group!!!!
Ask any questions, share your knowledge and just enjoy getting to know other Disney fanatics in our facebook group called Walt Disney World Made Easy for Everyone.
Also join me on Pinterest here.
GET UPDATES, NEWS & TIPS (IT'S FREE!!!)
Sign up below to stay updated on the newest information, tips and tricks to help you plan your perfect Disney World trip!