Everything you need to know about bugs, bees, lizards, snakes, alligators and other wildlife at Disney World and in Orlando.
On this page, we'll discuss the wildlife at Disney World, and whether it may impact you or not. We'll also discuss allergies where it's appropriate. Like anywhere, you'll go, there will be bugs and other wildlife. Though we can't cover everything here, we'll cover some of the things that guests tend to encounter or ask about in Disney World.
Bees, flies and other bugs at Disney World and in Orlando
In Florida, insects are around throughout the year, but we seldom see any on the Disney grounds. This is because Disney is usually aggressive about getting rid of pests. Regardless, if you look around outdoors (and occasionally indoors) you'll encounter bugs since it's actually impossible to eliminate them all.
If your condition is serious, and you tend to have extreme reactions to any type of bug bite or sting, consider bringing medication such as an epinephrine kit or EpiPen (available by prescription) or antihistamine such as Benadryl with you wherever you go.
If you're allergic or sensitive to bug bites, and you're hanging around outdoors such as by the pool or in outdoor restaurants, you'll want to:
Sit away from the trash cans. There tends to be more bugs and bees around them.
Sit away from the greenery and trees. Again, you're more likely to be exposed to bugs the closer you are.
On a recent stay at the Port Orleans Riverside resort, we were laying out by the pool in a shady area under trees and near some bushes. For the first time in over 20 years of visiting Disney, we encountered what we believe were yellow flies. They were rather aggressive, and we left with a lot of itchy, swollen bites. We've also encountered black flies and deer flies.
Ants around Disney World – Can they cause allergies?
Most of the ants you'll find in the Orlando area are harmless, but Florida has fire ants, which have a very irritating bite and may cause an allergic reaction. As a precaution, avoid going barefoot outside. Topical antihistamine liquid can be helpful for minor skin reactions.
Spiders in Orlando and at Disney World
Central Florida does have spiders, some of which are venomous. We usually don't see them when we're at Disney World. However, my wife did get bit on her leg when she sat outside on the grass at night to watch an outdoor movie in our Disney resort. If that's a concern, you may want to take some precautions like wearing long pants if you or your children will be outdoors on the grass.
Love Bugs – not a problem except to your car!
During love bug seasons you'll see them floating, flying and landing everywhere. They're small black bugs that are harmless and don't bite. They also don't make that buzzing sound in your ear like other flying bugs. The adults that you'll see around don't eat anything, so they won't go after your food. They can be annoying, and those with fear of bugs may have a challenge adjusting.
We find that the most challenging part of dealing with love bugs is that they can stick to your car when you collide with them as you drive. For some reason in our experience we don't see as many in the parks as we do in the resorts.
Love bug season is usually somewhere around May and September, give or take a few weeks, and it usually lasts around 3-5 weeks.
Lizards – Also not a problem (unless you're squeamish!)
There are a lot of small lizards in Florida. They're usually very small and most people find them to be cute or, at the very least, non-threatening. They're a fact of life here, and they're frightened of people. If they think you're approaching them, they'll run for the hills (that's figurative since much of Florida is flat). We've never heard of anyone being bit by these small lizards.
On only one occasion in all the years we've been going to Disney, we caught sight of a larger breed of lizard sunning itself on the lawn of our resort. We've found that these lizards are not usually aggressive either. They'll run if you get too close.  I've never known a single person who was bitten by a lizard, and I've lived in Florida for over 30 years. However, I'd recommend keeping your distance as they can bite.
If you're at all concerned, don't approach them, and they won't come near you. Here's what one Florida resident says about lizards:
"The small lizards get into my house on a regular basis and we think they're so cute and harmless that we always try to rescue them. We catch them with a container and release them outside. It's rare but very occasionally we see the much larger lizards. I was visiting a Ritz-Carlton resort in Miami and they were all around the pool. They don't come near people, and they seem not at all aggressive. No one bothered them, and they didn't bother anyone. I wouldn't try to catch one unless you knew what you're doing because they could bite. I've never caught site of one of these big ones in Orlando, and we visit a lot."
Throughout Florida, there are a wide variety of larger lizards, though I've never seen one when in Orlando. People have abandoned pets and exotic animals throughout the state, and they breed. The larger lizards can bite and they may carry bacteria. They should never be approached except by a professional. In over 20 years of living here, I've never seen anything even remotely resembling aggression by these lizards. I've seen many of them, and in my experience they tend to just stand where they are enjoying the sun, or they run from people.
Snakes at Disney World
As in most states, Florida has snakes. I've seen one once on Disney grounds in all the years we've been staying on site, as well as during our visits to the Orlando area. We've never heard of anyone being bitten by a snake while at Disney World. Take precautions if you see a snake by avoiding it.
Alligators on Disney World property
Florida has gators. A couple of years back, a child was killed by an alligator as he was wading in a Disney property lake. Guests are not allowed in the lakes or rivers, and Disney now has fences blocking guests from wading in the water. We have never seen a gator while at Disney, however there can be gators in the lakes and canals. Just take precautions if you approach a body of water. Keep small children from the water's edge, and be alert if you're walking right by the waterways.
Will you encounter other wildlife while at Walt Disney World?
While staying at the resorts, we've seen many rabbits grazing on the lawns, and the occasional squirrel. Many of the resort pools have ducks that hang around, using the pool at the same time as the humans. The Disney lifeguards allow it, so don't be shocked when the occasional duck paddles by you as you're swimming.
You'll also see ducks and birds hanging around wherever there's food outdoors. The ducks can get very bold if they think you may have food. Poolside, they'll hang around your lounge chair, giving you the "poor hungry me" look. If you feed them, you'll attract more, and once they know you'll give them food, chances of them leaving are slim.
There are times when the birds can get really aggressive, swooping down and snatching a piece of unprotected food on your table. We've experienced this while hanging at the pool, and also while eating in the parks.
You'll catch sight of the more exotic Florida birds once in a while, especially while you're riding down the river ways on the open sided boats. There are other types of animals in the area, but we've never caught sight of them.
If you're staying in Fort Wilderness, you may catch sight of larger animals such as deer. There are some more 'exotic' animals, including armadillos, but we've never seen one. Sue Mickelson, an admin on our Facebook group, reports that her husband has seen a bobcat in the woods at the golf course between Old Key West and Disney Springs. Disney is aware of and watching these animals so that they won't become a danger or hazard to guests. They do move the animals to other locations if there is any question of guest safety. We'd advise you to keep your distance and don't approach wild animals.
For more Disney World planning tips, check out this page: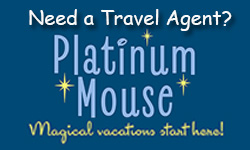 Are you looking for a Travel Agent? Do you have special needs or extra challenges? If so, consider using one that knows Disney World well and has experience with special needs travel. Visit our Travel Agent page here to learn more.
Join our Facebook group!!!!
Ask any questions, share your knowledge, and just enjoy getting to know other Disney fanatics in our Facebook group called Walt Disney World Made Easy for Everyone.
Also: Like our Facebook page here.
And join me on Pinterest here.
GET UPDATES, NEWS & TIPS (IT'S FREE!!!) Plus get a Free Disney World Planning Schedule Form.
Sign up below to stay updated on the newest information, tips and tricks to help you plan your perfect Disney World trip!