… And why we chose them to sponsor us!
We like this company for many reasons! Here's a brief overview of why, and below we'll explain.
DISNEY APPROVED VENDOR – There are only a four, and this comes with perks! (see below)
FREE DELIVERY to resorts and hotels.
Newest equipment.
Clean equipment and well maintained.
Great reputation and customer reviews.
Quick service, even in the parks.
Great selection of wheelchairs/scooters and accessories.
Convenience. They'll pick up and drop off at your Disney resorts without you being there.
More options such delivery of water or Gatorade with your delivery.
Reliable! They've been in business over 23 years.
Every year hundreds of thousands of people with mobility issues visit Disney World. Many of them need wheelchairs or scooters. If you're one of them, you've probably found our very extensive and popular mobility/wheelchair/scooter article series designed to help you have a great time at Disney.
When we decided to seek a sponsor, our first choice was Buena Vista Rentals (BVR for short), and we were super excited that they accepted. Here's more about why they were our first pick:
You get security & convenience with Buena Vista Rentals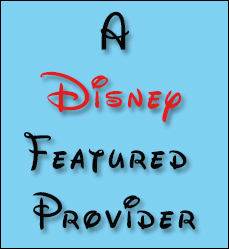 Disney recommends only a small number of vendors that they call Featured Providers. You'll also see them referred to as Disney approved vendors. These vendors are vetted and well checked out by Disney, which is a great advantage. They're also held to a very high standard of service by Disney.
Buena Vista Rentals has been a Featured Provider going on 23 years at the time of this writing! That's quite an impressive history!
We also checked Buena Vista out ourselves
Before reaching out to BVR, and we found that they had an excellent reputation and consistently great reviews. When we asked Buena Vista Rentals representative Matt Haggadone what makes them different, he told us that reliability is the key thing:
"We change out our equipment about every two years. We have 5 new trucks on the road delivering equipment. We can assist customers within an hour or less after calling us. We have a great relationship with the area hotels and resorts. We can have your equipment there at the resort waiting for you when you arrive.

All our equipment is safe and clean. We take the time to thoroughly check all our equipment before renting them out… No overbooking so you're guaranteed your equipment.

We strive to meet and exceed all guest needs so they will continue to come back to us year after year. The customer comes first, we know they are here to enjoy the theme parks and we wish to help them have a great experience while they are here in Central Florida."

—Matt Haggadone, Buena Vista Rentals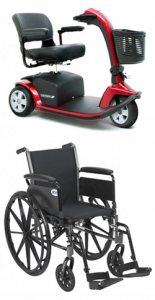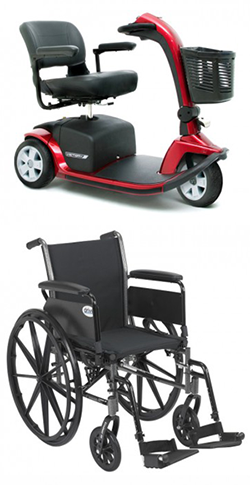 Personally, I'd say that all of the above means a lot. We've had poor experiences with a different vendors in the past with equipment that was very worn out, and a scooter that died on us. Having newer, well-maintained equipment is a big deal, and knowing that you'll be helped quickly if you need it is also a big deal, especially when time is so precious when you're on your Disney/Orlando vacation.
Disney Approved Vendor perks mean convenience for you!
Since Buena Vista Rentals is a Disney Approved Vendor, they have the ability to serve you in a more convenient way than those companies that are not Disney approved. Here are a couple of perks:
Buena Vista can drop off and pick up your order at your Disney resort without you being there. For non-Featured Providers, you have to make arrangements to be there when they drop off your scooter/wheelchair, and you have to be there when they come to get it from you at the end of your trip.
Buena Vista can get to you more quickly in the parks if you need help. They're allowed to enter the parks using Disney's Backstage Entrance. This means that they can get to you much faster than the non-Disney approved companies. Great perk! Some non-Disney approved companies can't come into the park. Others buy annual passes and come into the parks just like guests do, waiting in lines with everyone else. They have to park in the guest lots, get through security, and have their fingerprints read to enter. So you can see why Buena Vista can get to you much more quickly!
Buena Vista Rentals has some very cool extra services!

They have helpful services and options that other Disney Featured Providers don't offer. For example they'll deliver cases of water or sports drinks with your scooter. They offer strollers, bicycles, oxygen, as well as helpful scooter accessories.
For example they have:
A sun shade which blocks out the sun and allows riders to be covered.
A cane/crutch holder that fits on the back of the scooter and is a great place to store your cane or crutches while you ride around.
An oxygen tank holder to store your oxygen tanks while you ride around.
Rear baskets which are great for extra storage.
The cup holders, which make it easy to put down your drink and ride around.
They also rent strollers, which is super convenient if you need both a wheelchair/ECV and a stroller. 
Beuna Vista Rentals has convenient locations. 
If you should need to go Buena Vista Rentals for any reason, they have a convenient rental location on Disney property at the front of the BoardWalk Inn, and they also have other locations around Orlando.
Our readers get a FREE ACCESSORY with rental.
CHOOSE A FREE REAR BASKET, CUP HOLDER OR CANE HOLDER with scooter rental. MENTION THE DISCOUNT CODE "DIZABLED". 
Or Call: (866) 484-4797 (mention the diz-abled.com offer)
Join our facebook group!!!!
Ask any questions, share your knowledge and just enjoy getting to know other Disney fanatics in our facebook group called Walt Disney World Made Easy for Everyone.
Also join me on Pinterest here.
GET UPDATES, NEWS & TIPS (IT'S FREE!!!)
Sign up below to stay updated on the newest information, tips and tricks to help you plan your perfect Disney World trip!