You'll have use of it wherever you are, unlike Disney scooters and wheelchairs which can only be rented and used in the parks. Disney also runs out. With an outside company you'll be guaranteed a scooter or wheelchair, and the cost is so much less than Disney charges! Almost half.
Here are some of the most well known companies that deliver to Disney World:
After doing a LOT of research, our first choice pick for sponsor was Buena Vista Scooter rentals, and they chose us back. We'll start with them, along with a brief explanation of why they were our first choice.
Our Featured Scooter/Wheelchair Provider
Phone – (407) 938-0349    (mention "DIZABLED" offer)
Toll Free (866) 484-4797  (mention "DIZABLED" offer)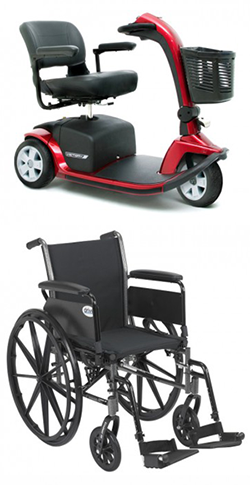 We recommend Buena Vista Rentals. We invited them to sponsor us. Here's why: 
FREE DELIVERY to resorts and hotels.
Newest equipment.
Clean equipment and well maintained.
Great reputation and customer reviews.
Quick service, even in the parks.
Great selection of wheelchairs/scooters and accessories.
Convenience. They'll pick up and drop off at your Disney resorts without you being there.
More options such as a case of water or Gatorade with your delivery.
Reliable! They've been in business over 23 years.
Buena Vista Rentals offer scooters, wheelchairs, and scooter accessories like a sun shade, basket or cup holder. They have a convenient rental location on Disney property at the front of the BoardWalk Inn, and they also have other locations around Orlando. We love that you can also order a case of drinking water or Gatorade which will be delivered with your scooter.
Buena Vista Scooter also rents out oxygen tanks, strollers and bicycles.
They'll service your own personal scooter if it needs repairs. They can come to most Orlando locations, and they can rent you a replacement scooter while yours is being repaired. There's a $50 service charge, plus parts and labor on all repairs. Additional fees may apply for them to come to you, depending on our location.
More Well Known Scooter & Wheelchair Companies:
Randy's Mobility
randysmobility.com
Phone U.S. & Canada (321)-281-6603
Phone U.K. (02030062368)
Randy's Mobility will sometimes rent ECVs to kids under 18 years old (usually older teens). Parents must be willing to take responsibility. Randy's will determine at the time of delivery if the teen seems mature enough to safely use the ECV.
This company does not leave its scooters with the hotels, but they bring the scooter directly to the client. This enables them to give the rider a lesson and to make sure they're capable of controlling the ECV.
Apple Scooter
www.applescooter.com
Phone 321-Scooter [726-6837]
Best Price Scooters and Strollers
www.bpmobility.com
Phone (866) 866-3434
Phone (321) 402-5955
Best Price has offered canopy covers for the scooters for an additional price.
Scootaround Mobility Solutions
www.scootaround.com
Phone (204) 982-0657
Toll free (888) 441-7575
OMR – Orlando Medical Rentals (Care Medical was purchased by OMR)
https://www.orlandomedicalrentals.com 
Phone (877-726-6837)
OMR can also provide oxygen with a prescription, as well as a wide variety of medical equipment items such as beds, walkers, wheelchairs, lifts, positioning aids, etc.
Join our facebook group!!!!
Ask any questions, share your knowledge and just enjoy getting to know other Disney fanatics in our facebook group called Walt Disney World Made Easy for Everyone.
Also join me on Pinterest here.
GET UPDATES, NEWS & TIPS (IT'S FREE!!!)
Sign up below to stay updated on the newest information, tips and tricks to help you plan your perfect Disney World trip!