Header image by Kat Jones-Shank
Visiting Disney World while the changes are in place for COVID is new territory for everyone. During their phased re-opening things are changing. We recently got a great trip report from Diana Shelton, a member of our Facebook group (Walt Disney World Made Easy for Everyone). We'll take Diana's observations and tips and expand on them where appropriate. We'll also add some other details that you'll want to know to plan a visit during COVID related changes and the phased re-opening.
Masks at Disney World
Released from Disney on 8-18-21: Since May, face coverings have been optional for Guests in outdoor common areas, and beginning Thursday, August 19, face coverings will also be optional for Guests in outdoor attractions, outdoor queues and outdoor theaters at Walt Disney World Resort. As a reminder, face coverings remain required for all Guests (ages 2 and up) while indoors and in Disney buses, monorail and Disney Skyliner, regardless of vaccination status.
Here's the "Know Before You Go" information which you can view for the most up to date policies: disneytraveltradeinfo.com/wdw
For more details on this including the types of masks that are acceptable,
see this page here
.
The parks have reduced hours.
Despite that, because Disney is limiting the number of guests, we hear that it's been possible to fit in a satisfying number of rides and attractions.
You'll need a park reservation to get into the parks.
Since Disney is limiting the crowd levels, guests must register in advance. For details on how this works check out our
park reservation
article. The reservations fill up quickly so get your reservations as soon as you're able.
Most rides in the Disney World Parks are open during this phased re-opening.
Some stores and restaurants are still closed throughout Disney World.
The great news is that the majority of rides are running, however many of the shows are not. Some stores and restaurants are not open in the parks and Disney Springs. Despite the fact that not everything is functioning as it normally does, including attractions, h
ere's what Diana said: "I noticed it the most at Epcot. It was rather sad. But I didn't feel I wasn't getting the magic of Disney. "
Expect a health screening before entering the park.
Before entering you'll have your temperature taken. Anyone who has a temperature of 100.4 or higher will be brought to a second check location for rescreening, and help if you need it. If you are confirmed to have a temperature of 100.4 or higher you will not be allowed into the park.
Social distancing is orchestrated in various ways in the parks.
Disney has added features and changed rules in a variety of ways designed to protect guests and to create social distancing. For example, you can see the papers on the theater seats behind these two guests that tell people where not to sit.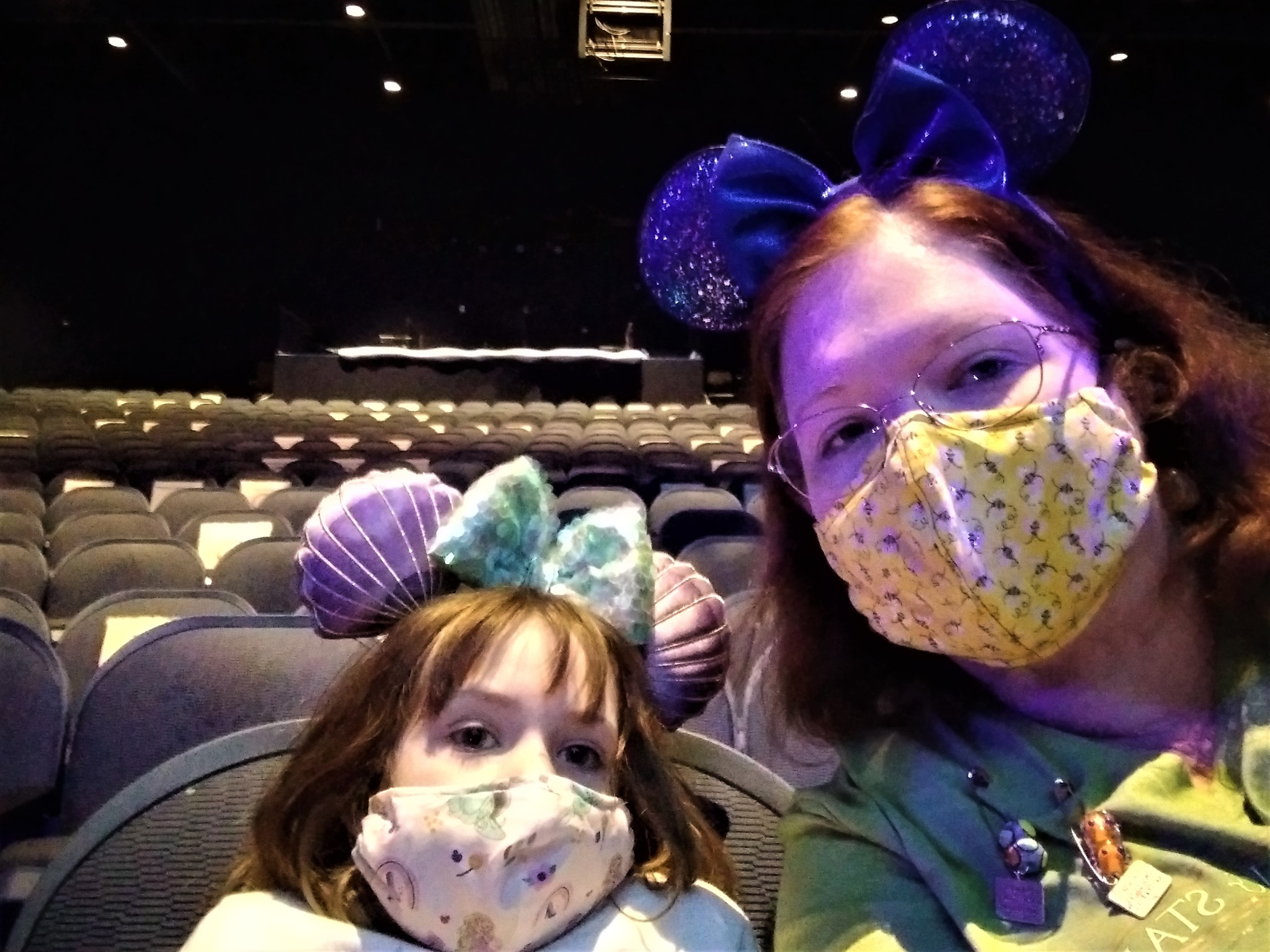 In Muppet Vision 3D you can get a sense of how far everyone is social distanced, and how few the numbers are in the theater.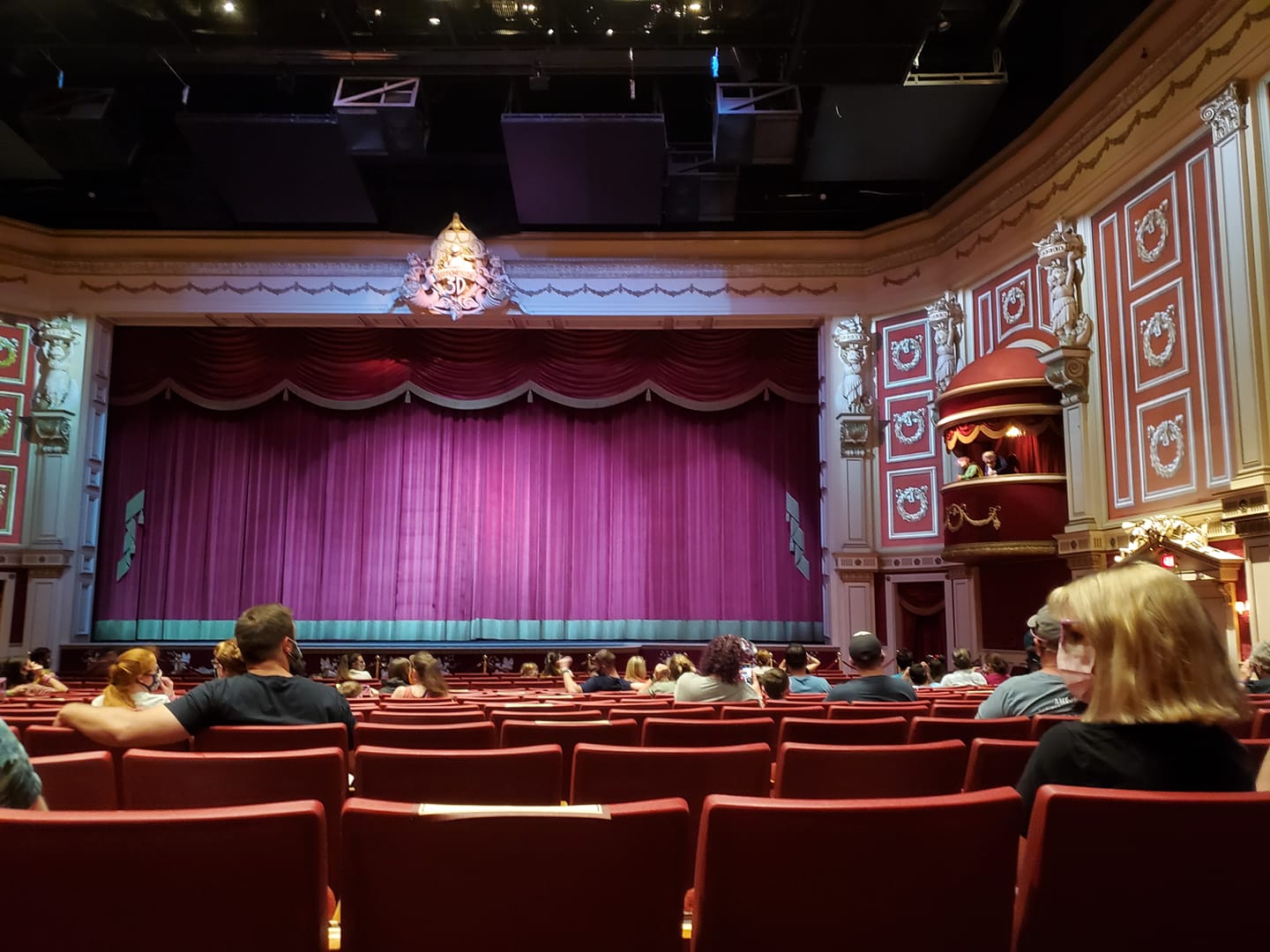 Here's a photo of a character breakfast at Chef Mickey's. Notice that the character is kept at a distance.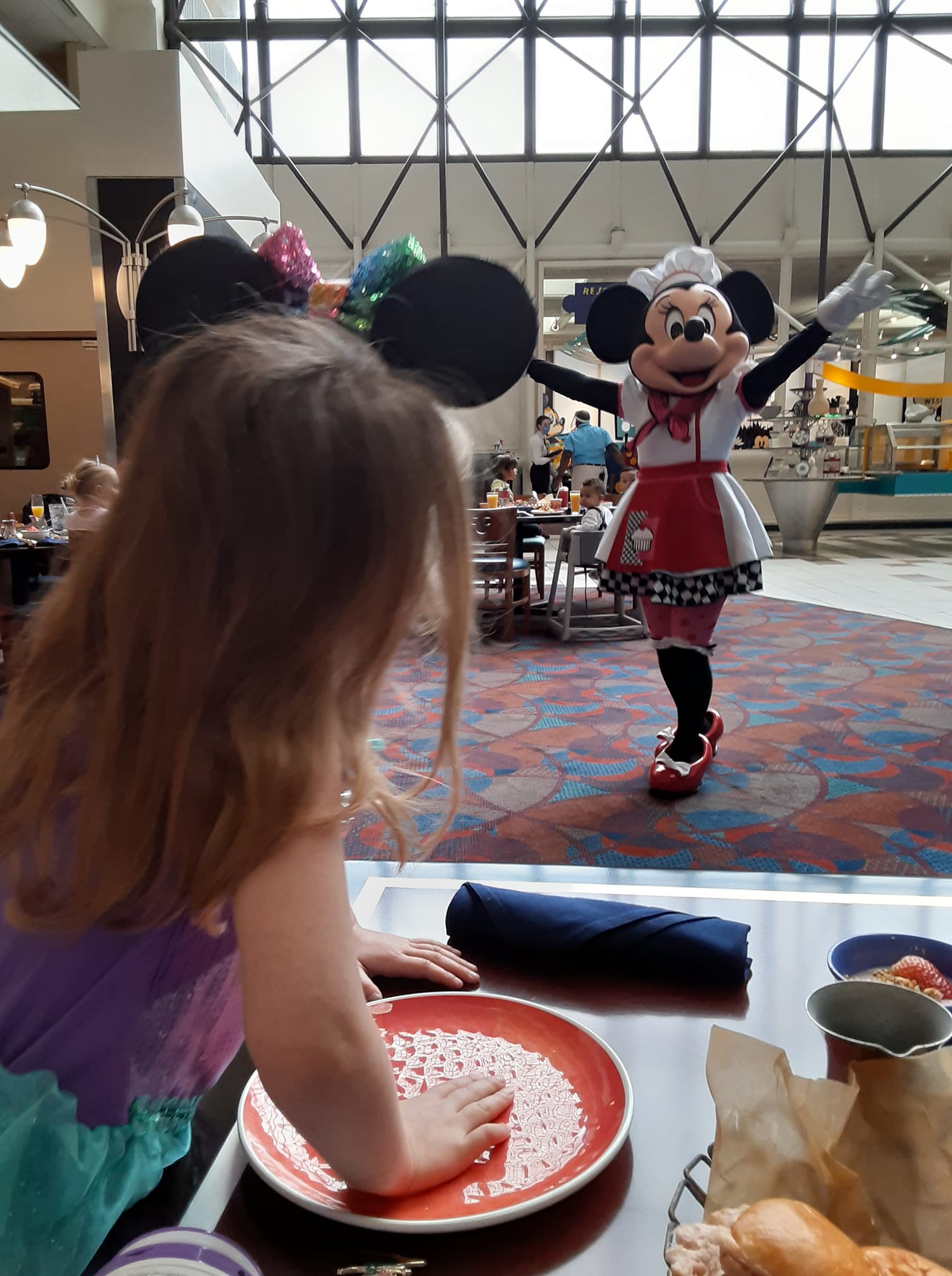 Some of the ride cars now have dividers in them to keep people apart. In Kilimanjaro Safaris the safari vehicles have dividers between rows: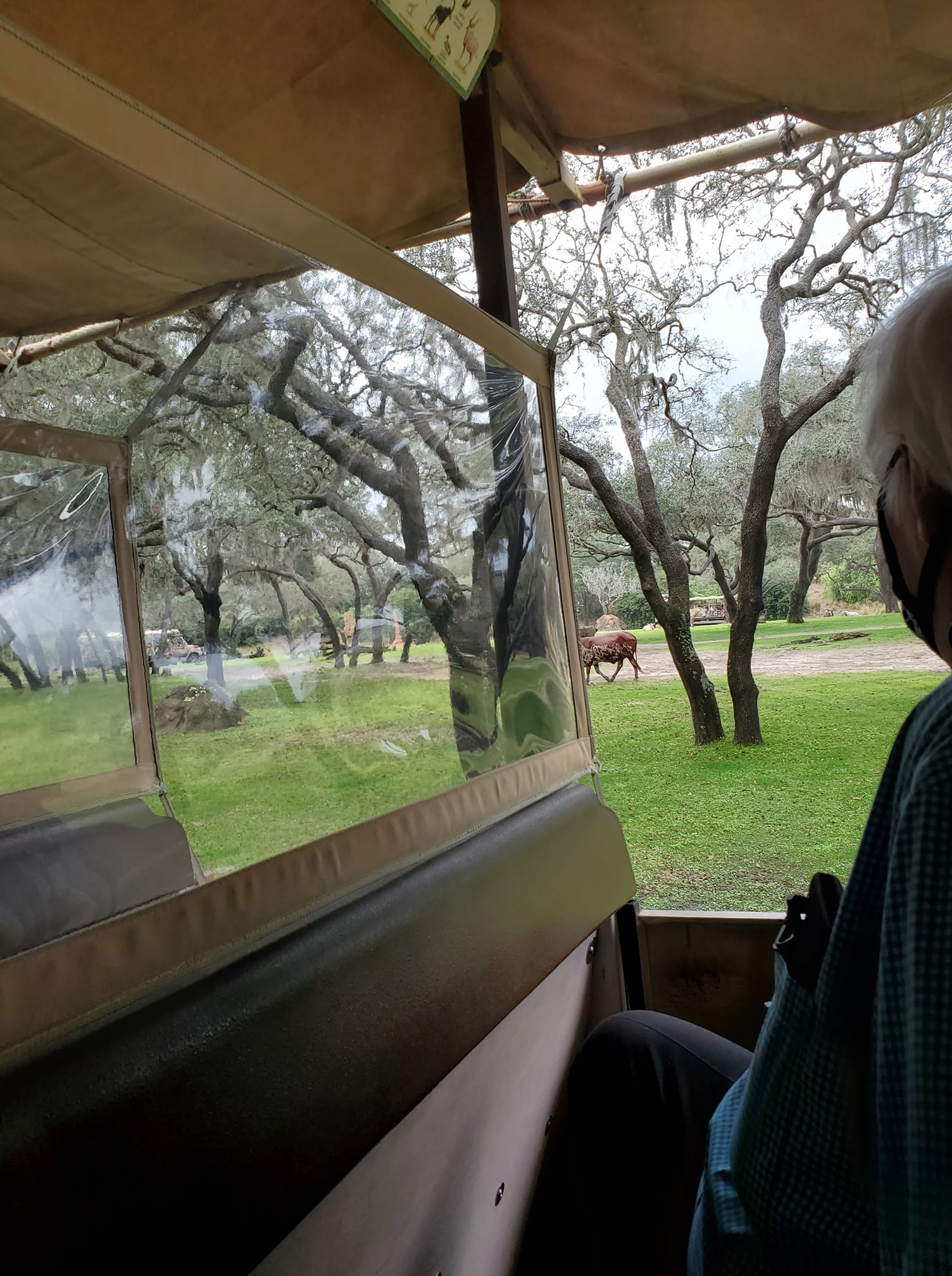 During COVID changes there are NO FASTPASSES. Is that a problem?
Diana felt that the lack of Fastpasses was not a problem during her visit. We have heard that the lines appear much longer than usual because of social distancing, however the waits are reasonable. Below is a photo of the queue for Rise of the Resistance. Check out the ground. You can see the "Please Wait Here" guide marks on the ground that show you where to stand. With all the free space between guests due to the social distancing, the queues move forward much faster than usual.
Diana found that the posted wait times were seldom correct. The wait times were always much shorter in her experience. Here's what Diana accomplished without Fastpasses:
Check out this photo taken at mid-day at Haunted Mansion by another one of our readers. There was no line to speak of. While the queues are not always empty that, the lines are definitely shorter than usual.
On her Hollywood Studios  day:
The park opened at 9 am. We got there at 8 am. We waited in a car line but got into the park around 8:11. By 9 am she rode
Slinky Dog
,
Millennium Falcon
. They were in line for
Rock 'n' Roller Coaster
a little after 9 am. They then were able to ride Millennium Falcon again. Following that they went on to their reservations (bar, droids and dinner).
Below look at slinky Dog's queue. It runs far beyond the actual attraction. Though it looks extremely long, you're looking at an approximately 45 minute wait. Here's a tip from one of our readers: "Be prepared to wait in line in some crazy places like restaurants, backstage areas, train stations, and stairways." —Jenny Wedell Eubanks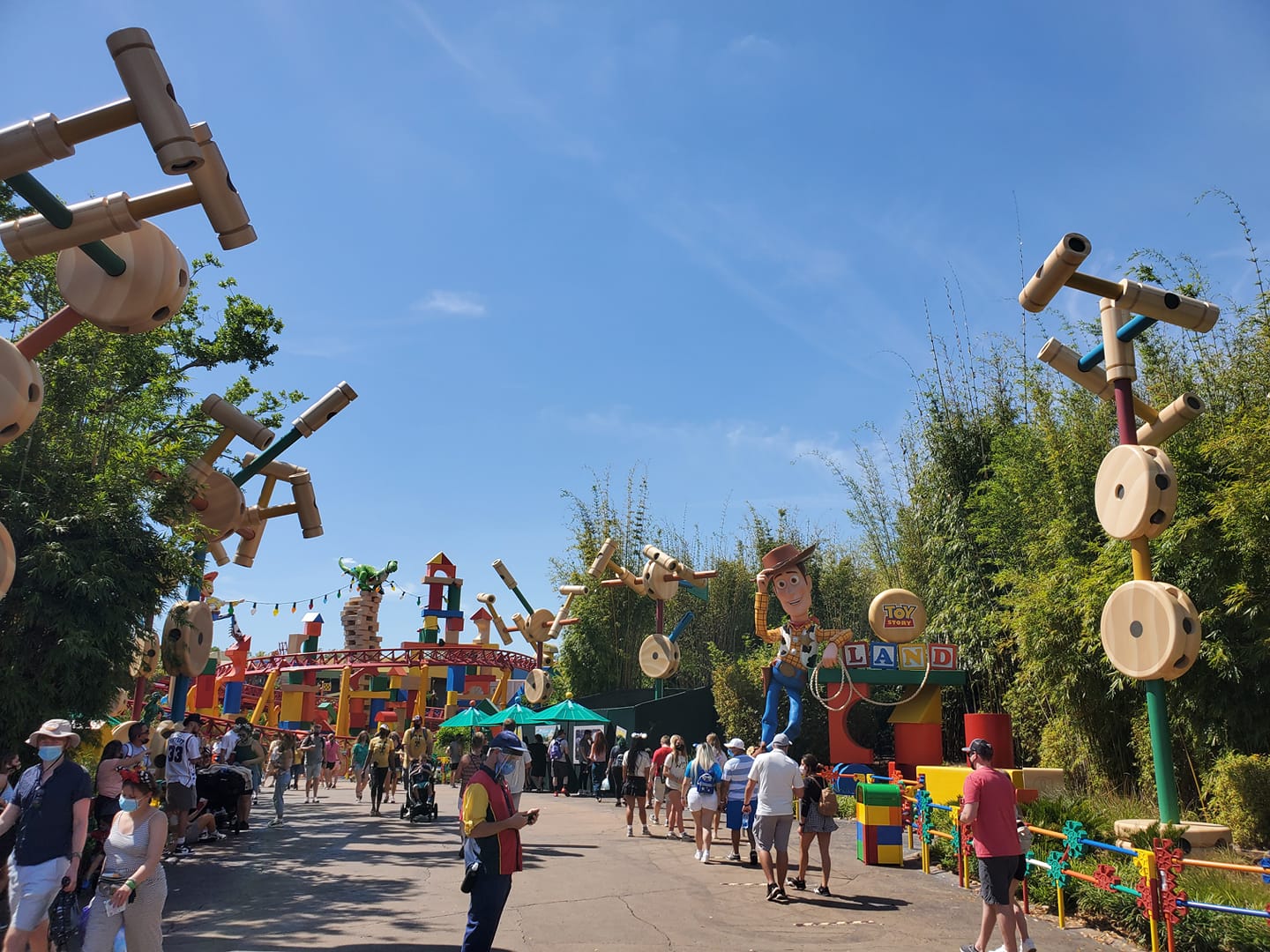 On her Animal Kingdom day:
The park opened at 8 am. They got there at 7:00 am. They let them in at 7:18 am. They immediately walked to
Flight of Passage
and walked right on. Then they went to
Expedition Everest
and Dinosaur before 9 am. They went on to
Kilimanjaro Safaris
followed by visiting the Affection Section around 9:15 am. They rode Everest 3 times that day.
On her Epcot day: The park opened at 11 am. We got there at 9:30. They let us in about 9:50. We went to Test Track and Soarin and walked right on.
The Park Hopper Option is different.
With the COVID change, you can't "hop" to another park until 2. Diana felt that it didn't affect them much.
If you're park hopping, you'll want to call to get the status of the park you wish to hop to. If you call this number below, you'll get a recording. It will let you know if any of the parks have reached their crowd limits or not, and if they're open for hopping. Call (407) 560-5000.
Mobile Ordering is being used for Counter Service Restaurants during COVID changes.
For counter service restaurants you'll want to use the mobile ordering option in the My Disney Experience app for your phone. The use of this app reduces face to face contact. It also offers a no contact menu. If you can't do this, Disney does you can get help from a cashier.
Diana felt that mobile ordering was a lifesaver (See the Mobile Ordering page for step-by-step directions on how to use the system). She liked the time windows that you see during the process of mobile ordering. For example she would see 11:15-11:45 / 12:00-12:30 / 12:45-1:15, etc. She recommends that you pick a time frame, because if you don't, you won't be eating until late or not at the place you want to. She notes that the use of this system has helped relieve congestion in the restaurants and has freed up tables.
However there are times when mobile ordering wait times are lengthy. Here's what one of our readers had to say about her experience:
"If you don't have a reservation for dinner, mobile order times can get lengthy. One night we didn't actually eat till after 10pm. I had lots of snacks in the room so it was ok!! Just be prepared." —Anna Maria
You'll still want to make full-service dining reservations in advance, plus there are other changes.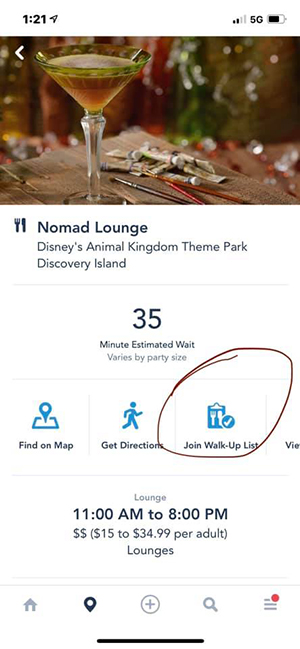 Diana reports that Disney is not seating guests at full capacity in restaurants, so seating is limited and reservations can be hard to come by. We hear that getting walk-in reservations is not something you can count on. If you want to experience any of the full-service restaurants you'll want to make a reservation.
If you do want to try to walk-in without a reservation, Disney has an electronic Walk-Up List. You can access it on your electronic device using the My Disney Experience App. You can see the circled menu item on the photo on the right. You'll click this to join the Walk-Up List. If a spot becomes available for you and your party you will be notified and given a time span to come to the restaurant. Of course, keep in mind that you may not be called at all.
Another feature designed to reduce face to face contact and to speed things up is the
Mobile Dine check-in
. Guests can check in to their full-service restaurant using the My Disney Experience app on their Android or iOS phones.
Disney is making touchless menus available for full-service restaurants through the My Disney Experience app. At the restaurant you'll be able to scan a QR code to bring up the menu.
Disney transportation allows less people onboard during COVID, and there's social distancing.
For example, on the monorail during her visit Disney was limiting to one "car" per couple/family. What we see is that officially Disney is limiting to 4 groups in each car. Two on each side, with a screen separating the two sides. All guests are required to sit. Standing is not permitted. So expect some social distancing measures throughout Disney transportation.
Check out the screens that have been added to the Disney buses: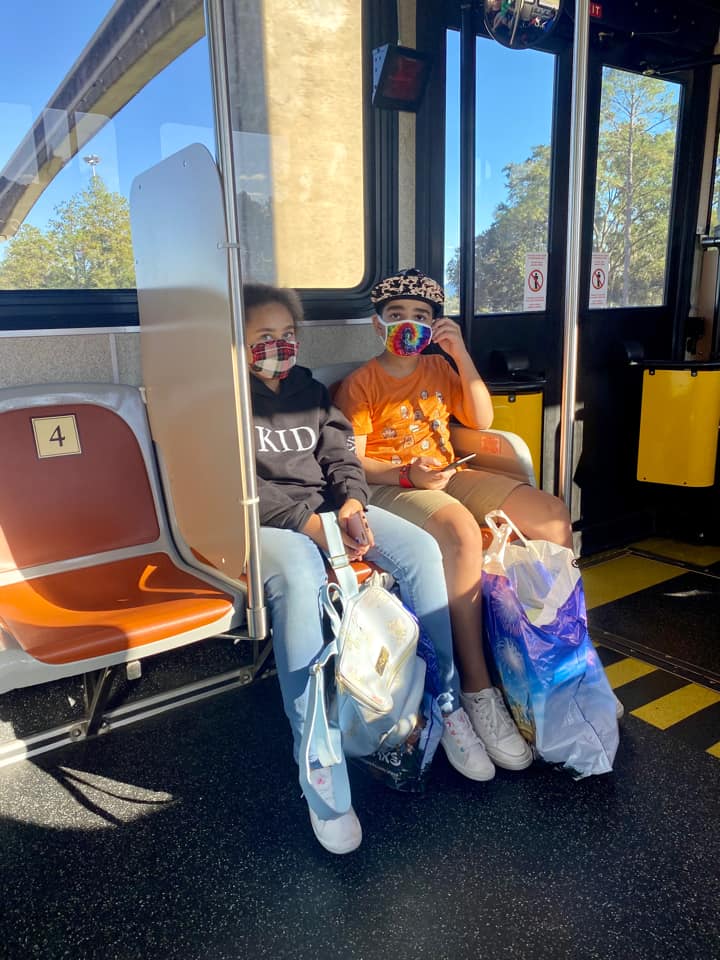 Mask rules are very strict and enforced.
For details on Disney's face mask policy, visit here.
Is it difficult to wear a mask all day in the parks? That depends on the person, their health status, and how used to this they are. Some express that it's not a problem at all, and some find it too difficult. In the warmer months it will be far more challenging.
Diana felt that Disney had done a good job of having 'relaxation stations' around the park where you can take your mask off and have a drink and snack.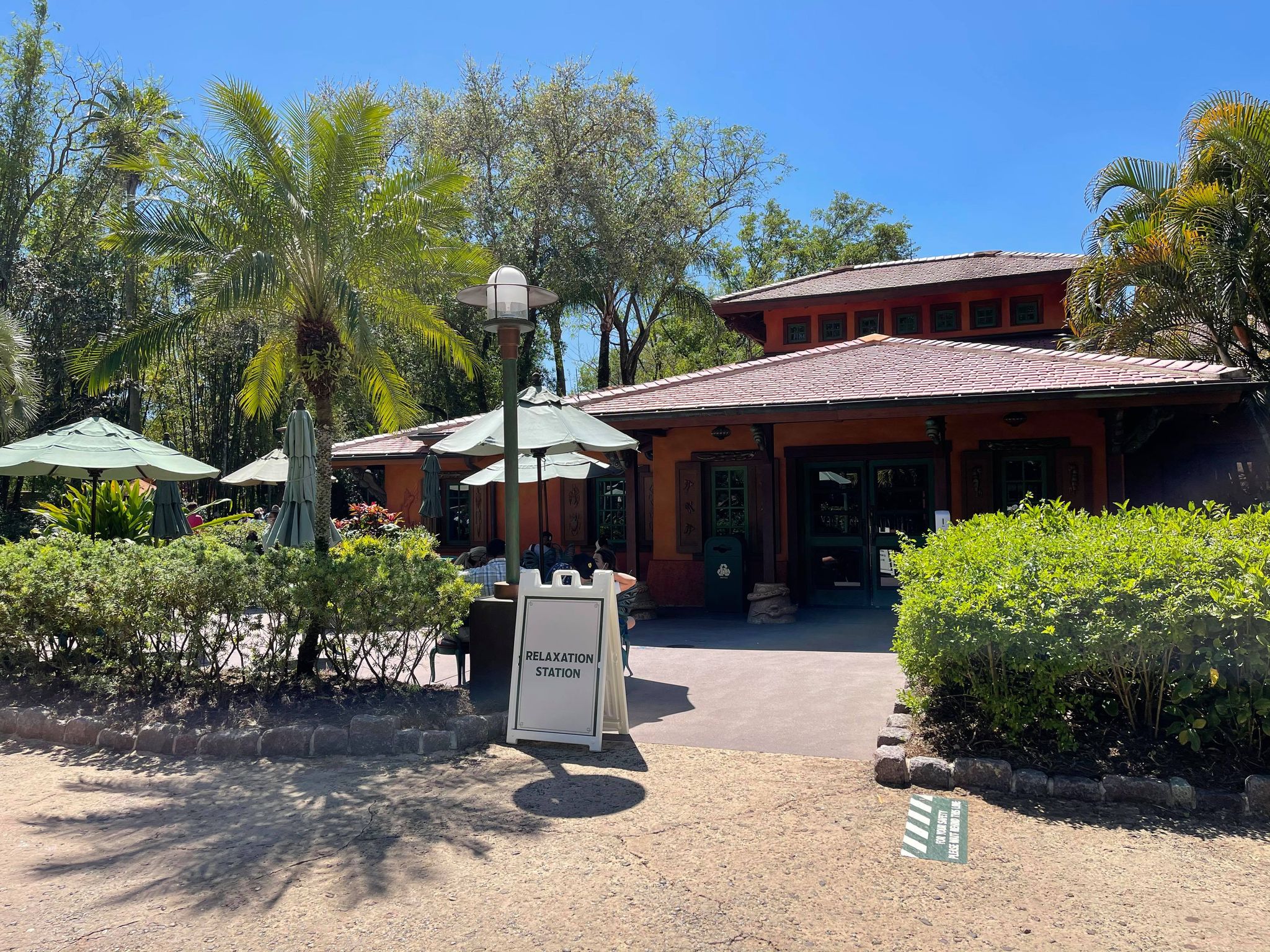 Important tip: Bring at least one extra mask and maybe more in case your mask gets wet or sweaty.
Characters don't have the regular meet & greets.
Of course, Disney is minimizing contact so character meet & greets are not happening in the traditional way. At random times, Disney brings cavalcades or processionals with characters  through the parks. They do it at random times and unannounced so that guests don't line up and form crowds.
They will also bring individual characters out, but guests are not allowed to get close. There are some photo ops that happen, and though you'll have you and the character in the picture, you won't be close to one another. The characters don't stay long in order to avoid crowds gathering.
Disney resort pools are open, but with some new rules.
Guests can enjoy the pools in their Disney World resorts, but of course there are some new rules.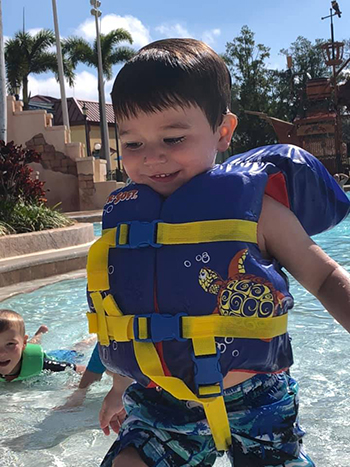 Guests must wear masks except if they're eating, drinking or swimming.
Life jackets are still available at all of the pools, but you leave them at your chair when you're done so they can be picked up and sanitized instead of returned to use again.
Lounge chairs are placed in groupings that are 6 feet apart, and can not be moved. Tables and chairs are also 6 feet apart.
Disney has placed sanitizing wipe canisters at the pools main entrances.
Pool towels are still given out.
Pool party activities still happen, but they're more limited and socially distanced.
Is it still worth it to go to Disney World?
For some it is not, but the majority of reports we see are positive. They're happy to be able to enjoy some level of Disney. My advice would be this. If this is your one and only trip to Disney World, wait until things go back closer to normal. If you're someone who will go many times in your life, and you feel the health risks are acceptable, a Disney trip during this time might be a refreshing break for you.
When will things get back to normal? It's anyone's guess at this time.
Join our Facebook group!!!!
Ask any questions, share your knowledge and just enjoy getting to know other Disney fanatics in our Facebook group called Walt Disney World Made Easy for Everyone.
Also join me on Pinterest here.
GET UPDATES, NEWS & TIPS (IT'S FREE!!!)
Sign up below to stay updated on the newest information, tips and tricks to help you plan your perfect Disney World trip!